Vision
The Greater Houston LGBT Chamber of Commerce is a leading economic voice in the greater Houston region. The Chamber achieves economic parity resulting in unprecedented economic opportunities for the lesbian, gay, bisexual, transgender, queer + and allied business community.
Mission
The Greater Houston LGBT Chamber of Commerce accelerates economic opportunity for the lesbian, gay, bisexual, transgender, queer + business community through a strong network of business allies, innovative programs, strategic partnerships and advance policies that foster economic inclusion and equality.
Strategic Focus Areas
• Business Development & Growth
• Education & Networking
• Collaboration & Partnerships
• Leadership Development
• Advocacy/Policy
Are you interested in donating to support the Chamber's mission and work focused on LGBTQ+ economic inclusion?  Thank you for your support!
Economic Empowerment
The overarching work of the Greater Houston LGBT Chamber is focused on economic empowerment and inclusion for LGBTQ+ entrepreneurs and professionals.  Our work focuses on supporting and growing a thriving LGBTQ+ and Allied Business Community to create economic opportunities for the LGBTQ+ community.
What does economic empowerment mean?  Economic empowerment means when an individual or community has an equality of opportunity to participate in, contribute to, and benefit from economic opportunities and fully be part of and recognized as part of the economic development ecosystem at all levels of society.  The Chamber promotes economic empowerment and equity for LGBTQ+ business owners and entrepreneurs.
LGBTQ+ Allies
We are proud to have many of our members that are strong LGBTQ+ Allies.  We welcome allies as a vital and important part of the Chamber.  Our allies have played and continue to play a role in supporting the LGBTQ+ Community.
The Chamber's Story...
In December 2015, two members of the Houston LGBTQ+ business community, Tammi Wallace and Gary Wood, began discussions with the National LGBT Chamber of Commerce (NGLCC) about launching an Affiliate Chamber in Houston. On February 24, 2016, the Greater Houston Chamber of Commerce officially launched. The launch event was held in conjunction with an "LGBT Business Builders" event sponsored by the U.S. Small Business Administration (SBA) and the National LGBT Chamber of Commerce. Other collaborating partners for the event included Affinity Magazine, Houston Community College and OutSmart Magazine.
As Chamber Co-Founders, Tammi and Gary were instrumental in creating the vision for the new Chamber and recruiting key Steering Committee members to support the ramp up of operations. The Steering Committee played an integral role in operationalizing the Chamber.
The original members of the 2016 Chamber Steering Committee were Roy Alvarez, Jr., Jonathan Marrs, Jonathan Netek, Tammi Wallace (Steering Committee Co-Chair) and Gary Wood (Steering Committee Co-Chair). Each of these individuals believed strongly that the Chamber could have a remarkable impact for the LGBTQ+ business community and its allies. They each dedicated considerable investment of time and energy in the organization's inaugural year, thus laying a strong foundation for the Chamber. Today, these individuals are recognized as part of the Chamber's Founding Leadership Council (FLC).
The Chamber Steering Committee collaborated with the North Texas LGBT Chamber of Commerce in order to launch the organization as quickly as possible. Through the tremendous support of Tony Vedda, CEO of the North Texas Chamber, the Houston Chamber was up and running within a very short period of time. The Greater Houston LGBT Chamber of Commerce owes a tremendous debt of gratitude to Tony and the Board of the North Texas LGBT Chamber of Commerce for their leadership, support and friendship. As a result of the strong relationship developed during the initial launch year, the Greater Houston LGBT Chamber of Commerce continues to collaborate with North Texas as well as other LGBTQ+ chambers across the state, through the texas LGBTQ Chambers of Commerce, on various initiatives including statewide advocacy/policy initiatives, statewide networking and sharing of best practices.
In February 2021, the Chamber celebrated its 5-Year Milestone Anniversary. In only 5 years, the Chamber was recognized as the leading voice locally and regionally and through a statewide collaboration with the Texas LGBTQ Chambers of Commerce.
Since 2016, the Chamber has and continues to celebrate major accomplishments and make tremendous contributions to the LGBTQ+ and Allied business community and community as a whole including:.
Tremendous growth through an increase in the number of members every year since the launch of the organization
Increasing the number of LGBTBE® Certified businesses in the region and state
Offering and increasing programming and events annually to connect LGBTQ+ and Allied entrepreneurs
Collaborating with other economic development organizations including LGBTQ+ chambers across the State of Texas as well as local and international partners
Advocating to ensure the LGBTQ+ business community has a strong voice locally, regionally and statewide
Creating economic opportunities for its members
Recognition as the leading voice for the Greater Houston LGBTQ+ business community
With these accomplishments and more, it's a collective effort on many fronts.  Through the initial support of our Inaugural Corporate Partners, Founding and Inaugural Members and our Founding Leadership Council and past and present Board Members to our entire membership, Executive Administrators, Strategic and Collaboration Partners and our volunteers who have been part of this amazing journey to our 5 Year celebration, we are incredibly grateful to you.  This milestone celebration would not be possible without you and we are thankful for your dedication, giving of your talent and treasure, and for being a key part of the Chamber's success since 2016.
Read more about the Chamber's accomplishments on the 5 Year Anniversary Page and check out the infographic below for some of the highlights of the last several years.
The Chamber has grown tremendously and continues to thrive. The organization provides major programming, member resources and other opportunities. It's an exciting time to be part of the Greater Houston LGBT Chamber. Join the Chamber and help us continue to make history!
The Greater Houston LGBT Chamber launched in February 2016 under the leadership of the Chamber Steering Committee.  We appreciate the leadership and tireless dedication of each member of the Steering Committee and the support for the vision, mission and work to lay a strong foundation for the Chamber.
In recognition of the tremendous contributions from this group, each person is recognized as part of the Chamber's Founding Leadership Council (FLC). The FLC serves as a source of expertise and institutional knowledge that is crucial to the long-term success of the Chamber.  Many members on the FLC continue to serve in various capacities within the Chamber.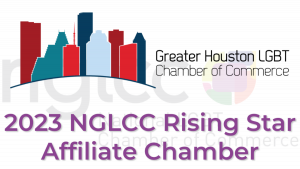 NGLCC Rising Star Affiliate Chamber Award, 2023

Outstanding Diversity Helping Hand Award
Favorite Local LGBTQ Community Organization, 2021
Outstanding Diversity Helping Hand Award
Favorite Local LGBTQ Community Organization, 2020
Chamber of the Year, 2019
Founding Leadership Council
Tammi C. Wallace
Co-Founder and President & CEO
Tammi is the Co-Founder of the Chamber, former Steering Committee member and is part of the Chamber's Founding Leadership Council.  Her passion for economic inclusion and opportunity for the LGBTQ Business Community has been a driving force in the Chamber's growth since the launch of the organization.
In recognition of the progress made in advancing the Greater Houston LGBT Chamber of Commerce's strategic goals and the need to dedicate resources to achieve the longer-term vision for the organization, the Board of Directors named Tammi to the position of President and Chief Executive Officer to lead, manage, and execute day-to-day operations of the Greater Houston LGBT Chamber of Commerce.  This appointment recognized Tammi's many years of volunteer work with the Chamber behind the scenes at the local, state, and national levels, where she has been dedicated to bringing visibility to the LGBTQ+ Business Community.
Gary W. Wood
Co-Founder/Chair Emeritus
Gary is the Founder & President of Integrus Solutions, a consulting firm that specializes in Business Analytics, Accounting & Finance, Information Technology, Engineering & Energy Services, and Mortgage Servicing Solutions.  He served as the inaugural Chair of the Board and is now Chair Emeritus.
In addition, Gary is on the board of the Montrose Center and is president of Outreach United, a nonprofit organization dedicated to bringing a more positive awareness and understanding to the Houston GLBT community.  In 2010, Gary was named Male Grand Marshal of the Houston Pride Parade, in recognition of his volunteerism, fundraising, and activism.
Roy Alvarez, Jr.
Roy recently retired from HEB grocery retail company following 38 years in, managing IT desktop & administration support team, and is a lifetime HEB Corporate Diversity & Inclusion Ambassador.
He serves as president of Alvarez Business Solutions along with major interests in a home and business security firm and a business that manages operations for men's health clinics. Roy is an active program facilitator for World Youth Foundation, volunteers on Montrose Center committees, HRC, and HEB's Houston Seniors Retirement Club.
Samuel M. Jacobson
Sam is a self-employed project and operations manager. He has over 30 years' experience in operations, training, budgets and project implementation in various restaurants, institutional and corporate settings. He has an emphasis in social responsibility and diversity and inclusion components of an organization.
Outside of his work, he shares his knowledge of diversity with a variety of organizations advancing education and arts, as well as those in the LGBTQ and Jewish communities.
Jonathan Marrs
Jonathan Marrs arrived in Houston in June 2013 to launch the U.S. division of a global energy consulting firm responsible for the United States and Mexico. He then went onto start the first U.S. registered apprenticeship programs in IT and Cybersecurity in the states of Maryland, Pennsylvania, and Virginia.
Jonathan serves on the board of the Greater Houston LGBT Chamber of Commerce. He also sits on the board for the British-American Business Council (BABC). Passionate about both the UK and the US, he works for the UK's Department for International Trade in Houston as Head of Trade & Investment.
A.J. Mistretta
A.J. Mistretta serves as vice president of Marketing and Communications for the Partnership. He oversees content, creative development and media relations for the organization. A.J. has worked in marketing and public relations in Houston for more than a decade, representing a number of companies and organizations. Prior to joining the Partnership he served as Director of Communications for Houston First and Visit Houston where he managed media relations and content development.
Prior to that A.J. served as the associate editor for a Houston-based Fortune 500 company, managing content writers for two business-to-business websites. He also previously served as the online editor and special projects manager for the Austin Business Journal, supervising daily news gathering and working with reporters on extended news packages. He has written for newspapers and magazines in Austin, Houston, Dallas and New Orleans.
Jonathan Netek
Jonathan is a designer and creative strategist with over 10 years in the advertising, marketing and communications industries. He has worked within large corporate environments (Edelman PR in NYC) as well as small to medium local businesses and startups.
With ample experience in branding/identity, print and web design, he strives to keep the end user in mind in every design solution. He has also worked within the community on many of the events put on by Outreach United.
Tiffany Tosh
Tiffany is the Founder and President of REFUGE Marketing & Consulting, an LGBTBE® certified firm. A Houston native, Tiffany is passionate about her local community and most importantly local businesses. REFUGE was created to serve as a strategic marketing resource for businesses. They help businesses grow through all aspects of digital marketing including Branding, Website Design and Development, Content Creation, Online Advertising, Email Marketing, and Search Engine Optimization (SEO), as well as marketing consulting, coaching and training services.
Tiffany has 25 years of marketing experience with almost 20 of them focusing on Digital Media and Marketing. In the past, she served on HRC's National Board of Governors and in several positions on the Houston Steering Committee, including three years as Gala Tri-Chair. Tiffany was the winner of the Chamber's 2018 Roy Alvarez Jr. Volunteer of the Year Award.