Individuals and businesses underwrite annual Chamber memberships for minority, trans and women-owned businesses through the Pay It Forward Fund. The Fund provides these businesses the financial means to join the Chamber, where they can benefit from the organization's programs, networking events, and help with LGBTBE® certification.
 Support the
Pay It Forward Fund
Pay It Forward donors are recognized throughout the year for their generous support of diverse-owned businesses. Donate today to underwrite a membership for a business that can use your help.*
$450 - 1 membership

$900 - 2 memberships

$1,350 - 3 memberships

Choose an amount to underwrite four or more memberships

Make an additional donation to support the Chamber
*Amounts consist of annual membership fee plus an initial processing fee that is added to the first year of any membership.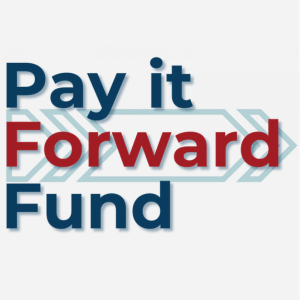 Become a Fund Recipient

Are you a diverse-owned business who needs financial support for Chamber membership? Through the Pay It Forward Fund, a one-year membership may be available to eligible businesses.

Underwriting of memberships is subject to available funds at the time the application is submitted.
Thank you to our generous Pay It Forward donors!
We appreciate the tremendous support from this year's Pay It Forward donors. Thank you for stepping up to underwrite memberships for diverse-owned businesses. These generous donations underwrite memberships to help businesses stay connected to the Chamber, needed resources and community!