The Chamber Champion Fund underwrites an annual membership for businesses in the community, with a priority on those that are minority, trans and women-owned. The Champion Fund is made possible through the generous support of our Corporate Partners and Chamber event sponsors.
Through the Fund's financial support, diverse-owned businesses have the opportunity to connect with the Chamber to receive valuable training, network with other businesses, and become LGBTBE® Certified.
Support the Champion Fund
Become a Chamber Corporate Partner* and help underwrite membership for a diverse-owned business so they can fully engage with the Chamber.  Chamber Champions are highlighted throughout the year for their support of the Fund.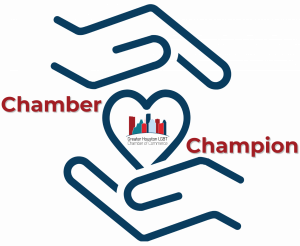 Become a Fund Recipient 
Are you a diverse-owned business who needs financial support for Chamber membership? Through the Chamber Champion Fund and the Pay It Forward Fund, a one-year membership may be available to eligible businesses.
Underwriting of memberships is subject to available funds at the time the application is submitted.
2023-2024 CHAMBER CHAMPIONS
Thank you to these generous companies for their support of the Chamber Champion Fund and for helping diverse-owned businesses grow and thrive.