As an organization at the intersection of business and community, the Houston LGBT Chamber of Commerce is focused on supporting our members and the LGBTQ+ community. On August 4, 2023, that came full circle with the announcement that the Chamber is a plaintiff in a lawsuit filed by the Texas Civil Rights Project (TCRP), challenging Senate Bill 12 (SB12), otherwise known as the Drag Ban Bill. The bill was signed into law by Governor Greg Abbott. 
SB12 is a discriminatory measure targeting LGBTQ+ Texans that violates the civil rights and freedoms of every Texan to express themselves through performance.
Drag is not a crime. This law must be overturned to ensure that all Texans have the right to express themselves. 
Read the Chamber's press release and TCRP's press release at the links below.
The law will go into effect on September 1, 2023. This bill's enforcement is a blatant attempt to make drag a crime when performed in front of a minor, punishable by fines of up to $10.000 for each violation. The law's vague language provides the opportunity to not only punish and criminalize drag performances, but theatre productions, cheerleaders, concerts, and other entertainment that may be considered sexually oriented.
This law has the ability to affect a number of industries, performers, and businesses - and will have a significant impact on how they generate revenue. Businesses that support these performances while in the presence of a minor, could face severe fines that could harm their ability to make money and operate regularly. It also leaves a clear path for business services to outright discriminate against these venues - for example, denying insurance coverage to the business owner.
Join us on August 21st for a Know Your Rights Session to hear from the Texas Civil Rights Project about what this means for your business or organization.  Individual drag performers are encouraged to attend. The Chamber is collaborating with TCRP to help educate the community on this new law. You do not have to be a Chamber member to attend this session.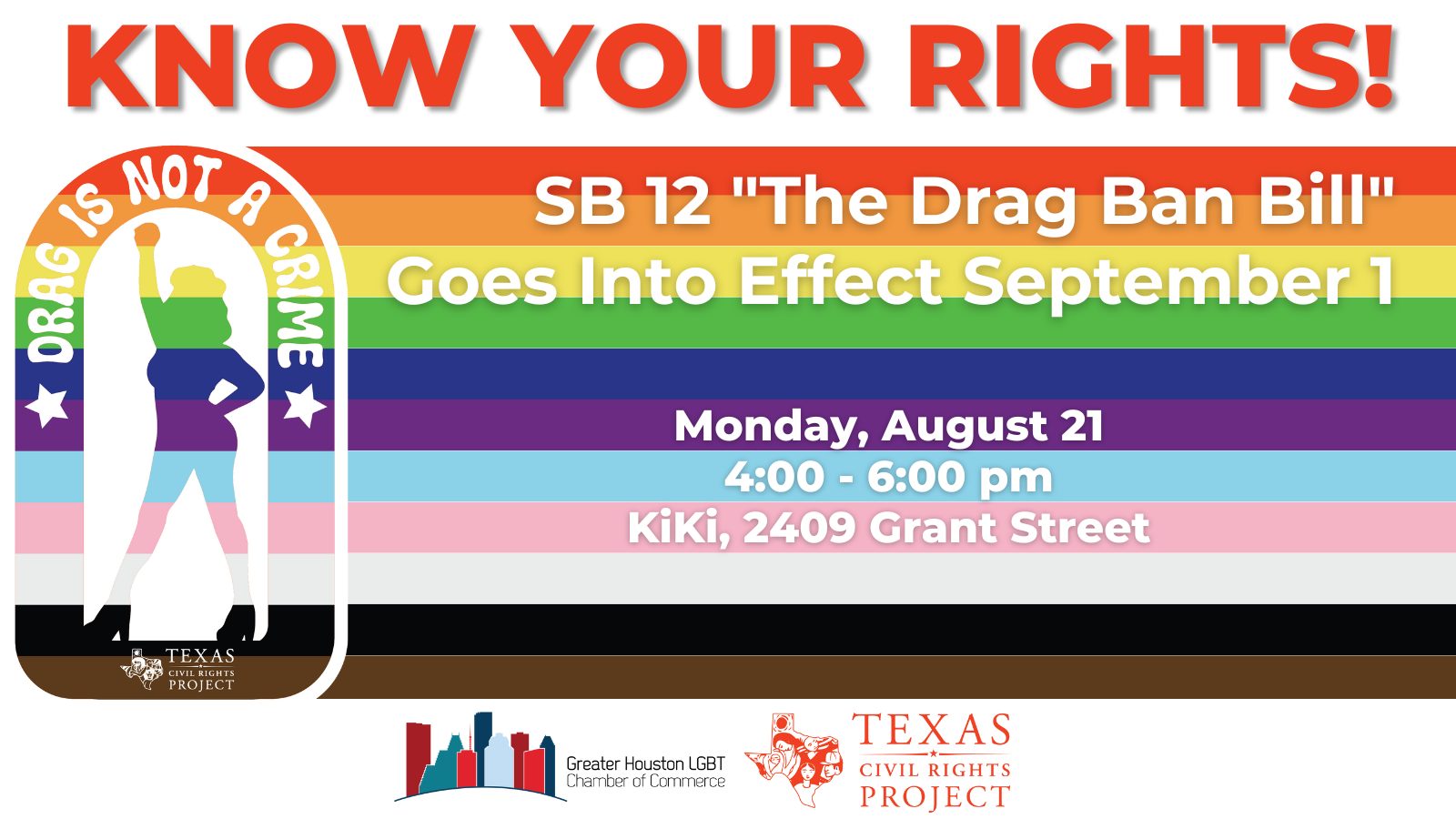 This case aims to hold Texas officials accountable for this law and to stop it from going into effect. Together we can protect the right to freedom of speech and expression. 
The Drag Ban Bill was one of nearly 80 anti-LGBTQ+ bills from state legislatures across the country targeting healthcare, access to books in public schools and the inclusion of LGBTQ+ kids in education. This blatant attack on the LGBTQ+ community is Texas lawmakers' attempt to silence, punish, and take away people's first amendment right to freedom of speech and expression. 
We are fighting this law because the state government does not have the authority to strip its citizens of these fundamental rights - and we deserve to live in a Texas that allows people to be themselves. Our members deserve the right to run their businesses without fear of unwarranted repercussions because of a baseless law.
The right for people to live, work, or perform authentically is something we are all entitled to. Texans should feel safe in our communities or places of business, and this law only emboldens harassment and hate. 
In 2016, we launched the Chamber to ensure that the LGBTQ+ business community has a seat and voice at the table. As an organization, we are impacted by this law as are our members.  We are showing up as a plaintiff to be "at the table" and make sure we have a voice in this important case.  We are here for our members, and we are here for the community.
If you, your business or organization are impacted, we hope you will join us on August 21st for the Know Your Rights Session to prepare for the new law.
We will keep you updated as the lawsuit progresses.  In addition, we are/have set up a webpage with relevant information including updates and resource information.  You can also learn more about TCRP at www.txcivilrights.org. 
As always, thank YOU for your support of the Chamber, its mission and important work on behalf of the LGBTQ+ community.