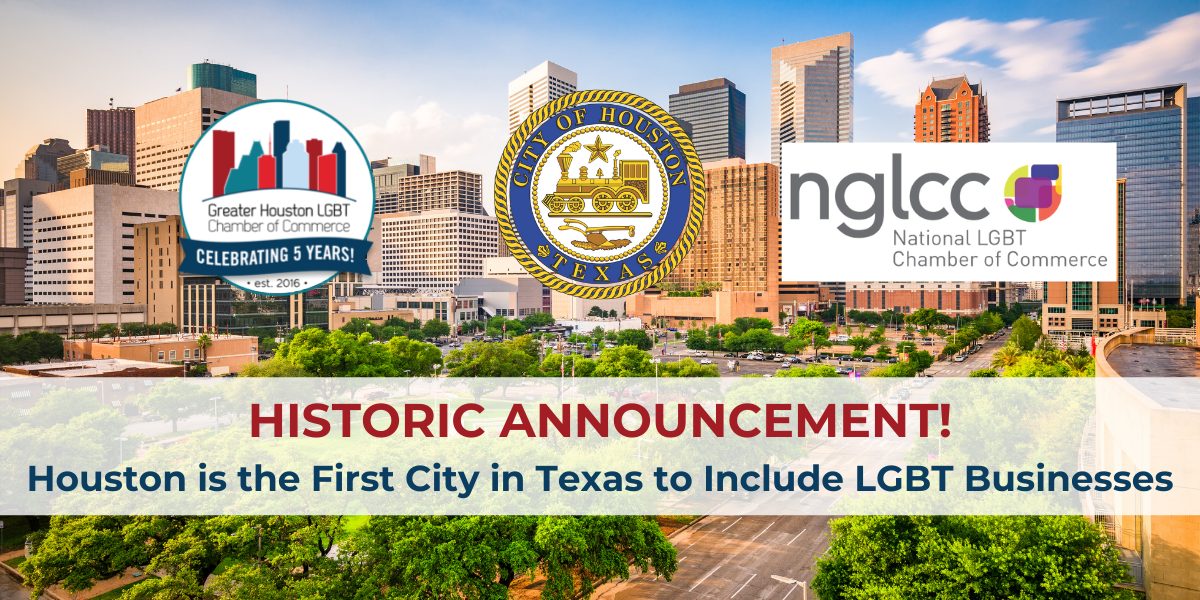 Executive Order 1-70 & Office of Business Opportunity
Pursuant to Executive Order 1-70 signed by Mayor Turner on March 4, 2021, the City of Houston now recognizes the LGBT Business Enterprise (LGBTBE) certification. LGBTBE certified firms in the Greater Houston area are searchable in the City of Houston MWSBE/PDBE, DBE/ACDBE, and LGBTBE Directory (Certified Firm Directory), accessible at https://houston.mwdbe.com/.
LGBTBE firms are certified by the National LGBT Chamber of Commerce (NGLCC) through the NGLCC Supplier Diversity Initiative (SDI). To access the LGBTBE certification application, visit the NGLCC's website at
www.nglcc.org
. Although the LGBTBE certification is not able to be utilized towards goal credit on City contracts, the inclusion in the City's Certified Firm Directory provides increased visibility for LGBTBE certified firms and ultimately increased access to contracting opportunities with the City of Houston and other local contracting entities.
The City of Houston's Office of Business Opportunity (OBO) also offers the following six (6) certifications:
Minority Business Enterprise (MBE)
Women Business Enterprise (WBE)
Small Business Enterprise (SBE)
Persons with Disabilities Business Enterprise (PDBE)
Disadvantaged Business Enterprise (DBE)
Airport Concessionaire Disadvantaged Business Enterprise (ACDBE)
OBO offers numerous support services to small businesses including Business Development and Capacity Building programming, free legal services, and one-on-one business counseling. All of OBO's services and programming are provided free of charge. Links to a few programs are included below and additional programs, services, and resources can be found on OBO's website (https://www.houstontx.gov/obo/).
Build Up Houston, a comprehensive, seven-month program designed to increase the capacity and success of small businesses (https://www.houstontx.gov/builduphouston/index.html).
Turner School of Construction, which provides an opportunity for firms to improve their economic viability by enhancing their managerial, technical and administrative skills, as well as developing strategic business relationships throughout the industry (https://www.houstontx.gov/obo/turner-school.html).
Interagency Mentor Protégé Program (IMPP), a program to strengthen effective working relationships and fosters long term stability between established companies and local agencies with emerging historically underutilized businesses (https://www.houstontx.gov/obo/mentor_protege.html).
Liftoff Houston, the City of Houston's annual business plan competition. It is an entrepreneurial initiative that aims to empower Houstonians with business literacy education and mentorship to start their own business while contributing to the local growth and sustainability of the Houston economy (https://www.houstontx.gov/obo/liftoffhouston.html).
Houston Small Business Legal Consultations, a coordinated effort with the City of Houston Office of Business Opportunity and participating law firms providing FREE, holistic, focused consultations via telephone with pro bono lawyers assisting Houston area small businesses (https://www.houstontx.gov/obo/free-legal-assistance.html).
Meet the Buyer Procurement Forum, OBO's annual procurement event that provides opportunities for small businesses to connect with procurement agents as well as other governmental agencies and prime contractors.
I'm Certified, What's Next?, quarterly workshops that includes an overview of OBO's services, and introduction to the City's procurement process and the Strategic Purchasing Division.
LGBT Business Inclusion Executive Order Signing Ceremony with Mayor Sylvester Turner - March 2021