You've heard it before…time flies!  Can you believe the Greater Houston LGBT Chamber of Commerce is celebrating its 5 Year milestone anniversary this year?  That's right…five years ago, we officially launched on February 24, 2016.  What a ride it's been!

We are celebrating major accomplishments and contributions to the LGBTQ+ and Allied business community, and community as a whole, including:
Tremendous growth through an increase in the number of members every year since the launch of the organization
Increasing the number of LGBTBE® Certified businesses in the region and state
Offering and increasing programming and events annually to connect LGBTQ+ and Allied entrepreneurs
Collaborating with other economic development organizations including LGBTQ+ chambers across the State of Texas as well as local and international partners
Advocating to ensure the LGBTQ+ business community has a strong voice locally, regionally and statewide
Creating economic opportunities for its members
Recognition as the leading voice for the Greater Houston LGBTQ+ business community
With these and more accomplishments since 2016, we are just getting started to drive economic opportunity and inclusion for the LGBTQ+ community!
5 Year Anniversary Sponsors
Inaugural and Founding Members
With these accomplishments and more, it's such a collective effort on many fronts.  Through the initial support of our Inaugural Corporate Partners, Founding and Inaugural Members and our Founding Leadership Council and past and present Board Members to our entire membership, Executive Administrators, Strategic and Collaboration Partners and our volunteers who have been part of this amazing journey to our 5 Year celebration, we are incredibly grateful to you.  This milestone celebration would not be possible without you and we are thankful for your dedication, giving of your talent and treasure, and for being a key part of the Chamber's success since 2016.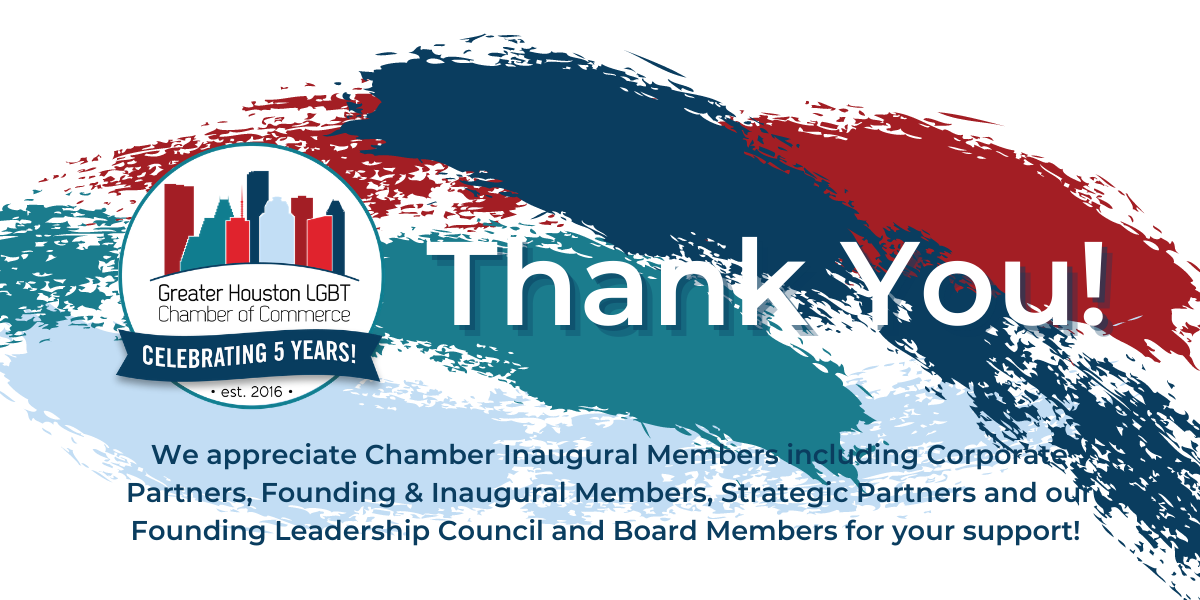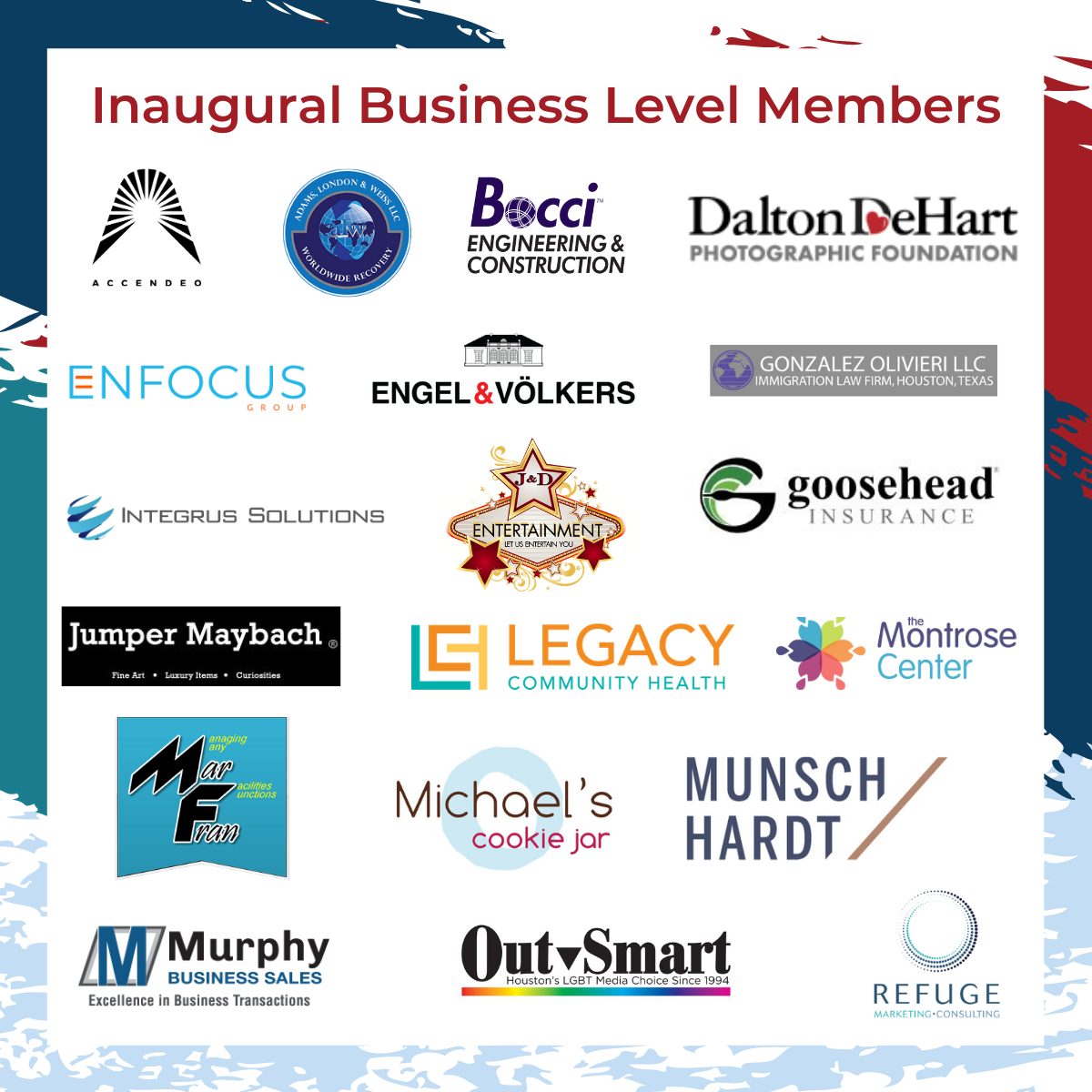 History
The Greater Houston LGBT Chamber of Commerce, co-founded by Tammi Wallace and Gary Wood, was established in 2016.  The Chamber officially launched on February 24, 2016, in conjunction with the "LGBT Business Builders" event sponsored by the U.S. Small Business Administration (SBA) and the National LGBT Chamber of Commerce (NGLCC).  Other collaborating partners for the event included Houston Community College and OutSmart Magazine.
When we launched the Chamber…we never could've imagined that within five years the organization would experience major events such as Hurricane Harvey, a pandemic and now a devastating winter storm.  Not to mention losing water all over the City on the date of our 4-year anniversary celebration!  Through it all, we've stayed the course, maintained our commitment to the Chamber's mission, grown year after year and created connection and an incredible Chamber community.  The work we are doing is critically important for our members and the LGBTQ community as a whole.
Yet, there is so much work to do to make sure the LGBTQ community is represented when it comes to economic development and economic inclusion.   With these and more accomplishments since 2016, the Chamber leadership recognizes that the LGBTQ community is woefully behind when it comes economic opportunity, and through the work of the Chamber and newly formed Chamber Foundation, the organizations will spearhead crucial initiatives in the years ahead to bring visibility and collaborative solutions to address the economic needs of the LGBTQ community.  And, we are just getting started!